Welcome to Outreach2Africa | Outreach2Africa verwelkom u
Taking the Gospel to people in places where others will not dare!
Outreach2Africa is 'n Nie-Winsgewende Organisasie wat daarop ingestel is om uitreike te onderneem na afgeleë gebiede, asook om sendelinge te ondersteun om by moeilik begaanbare plekke uit te kom.
Visit our Facebook page for the most recent updates.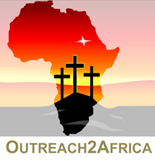 ---
Read all about our outreaches under the "Categories" tabs or visit our Facebook page: Outreach2Africa.co.za
---
Outreach2Africa is a registered Non-Profit Organisaion (NPO)
Our aims and objectives are:
To provide support to Missionaries, Christian-based institutions and Christians engaged in community and outreach projects.
To provide funding and support to the poor and disadvantaged.
To offer support by providing opportunities for visibility and partnership through various activities of the outreach platform to religious institutions and individuals, enabling it to interact with interested parties and to raise funds to support its aims and objectives.
To give its members access to a database of Missionary and Christian-based activities and organisations.
To establish a relational network of Christian institutions and persons.